Owned and Operated by Paul Grimston

About Castaway Charters
Paul's passion for fishing, combined with his corporate background and over 20 years experience fishing out of Ucluelet and the West Coast of Vancouver Island, makes Paul the ideal guide for your incredible fishing charter. Your experience aboard Castaway Charters will be both relaxing and exhilarating as you reel in one fish after another!
Ucluelet, BC is situated near the Barkley Sound, right next to the large undersea plateaus' (Banks) just offshore that attracts spawning baitfish. This area is naturally stacked with both Halibut and Salmon, and they are ready to bite! The waters near Ucluelet are quickly building the reputation as one of Canada's "World Class Fishing Destinations" and it is not uncommon to catch Tyee A Chinook Salmon over 30lbs in the peak summer months.
Captain Paul knows where to find the fish, what tackle to use, and how to make the most out of your time on the water. Castaway Charters is located near the most consistent fishing grounds on the West Coast, and it is not uncommon that a full day 4-person trip could land you between 20 to 30 fish in one day!
All trips depart with two 150-quart coolers lined with fresh salt ice to keep your catch fresh and the deck has a sea and fresh water wash down system so your fishing area is clean throughout your trip. Paul will bleed, rinse, clean, and filet your catch and repack it on new salt ice in your cooler. This service is included in your fishing charter package. There is also a vacuum packing processor that can vac pack and freeze your fish till you're ready to head home.
"Call Paul Today At 250-720-7970 To Arrange Your Angling Adventure Of A Lifetime!"
About The Captain

PAUL GRIMSTON
Paul Grimston has been fishing the waters off the West Coast of Vancouver Island for over 25 years. He has spent over 20 years in Ucluelet onboard Castaway's 32-foot Sportfisher. Paul's passion for fishing, combined with his corporate background, makes him the best choice for your guide. His extensive fishing experience will be proven by a cooler full of fresh fish that you'll catch.
Halibut
Castaway continues to catch Giant Halibut, unfortunately, they can't be kept and must be safely released back into the ocean. The ones we can keep have a maximum limit size of approximately 126 cm and can weigh in between 60 – 70 lbs. The ideal eating size is between 20 and 40 lbs. Great fight, Great fish, and Great eating!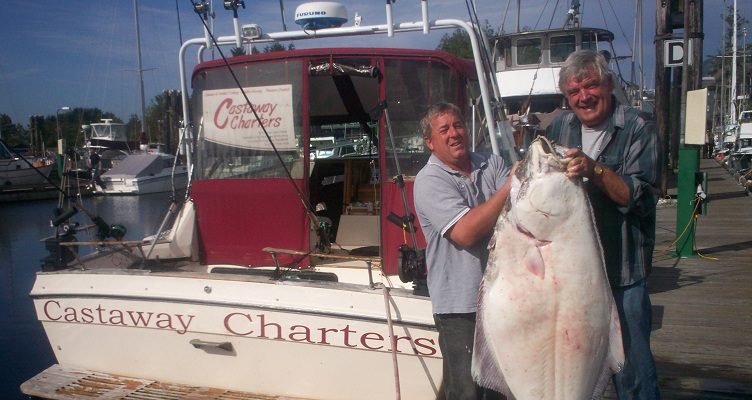 Paul knows all the tricks to make your "Fishing Trip of a Lifetime" come true.
Paul was awesome! So nice and friendly! Had such a fun time offshore fishing for my first time! Can't wait to come back to fish with you!!!!
Our captain, Paul Grimston, was the best charter captain we have had. We have been coming to Ucluelet, Vancouver, BC for many years and have fished with numerous charter boats. Now that we have had such a wonderful experience fishing with Paul, we won't choose any other charter. Thank you Paul for a wonderful trip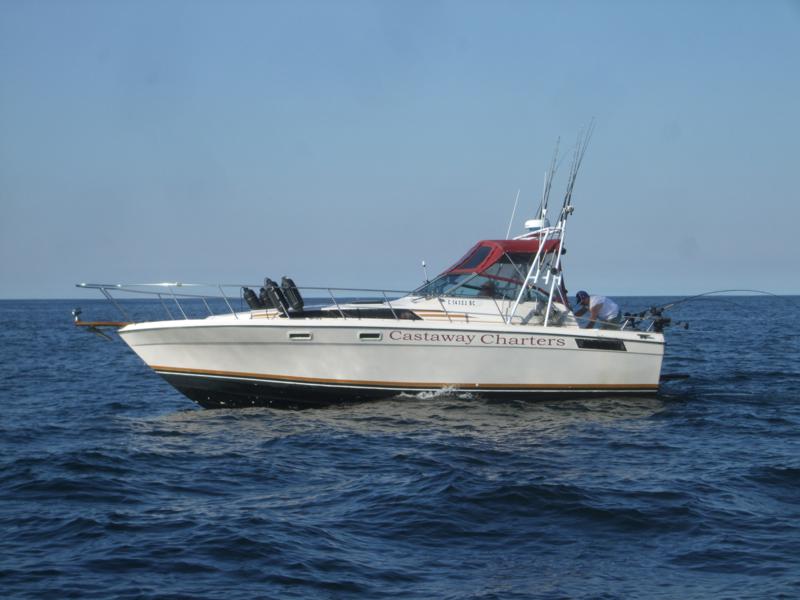 The Boat

32 Foot Sport Fish Model

Enjoy all the conveniences and comforts of Castaway Charters' 32 foot Sport Fish Model luxury yacht. The boat comes with a private full-sized washroom and electric fresh water flushing toilet. Full charters can comfortably hold up to 5 people.
Castaway Charters has all the latest gear and technology to make sure your fishing trip will be the most successful it can be. We're fully equipped with brand new incredible Islander MR3 Reels, coupled with 10'6″ G.Loomis Rods – only the best for Castaways Customers. Lure depths are controlled by Scotty's new High Performance electric down-riggers. We can fish at any depth with a light line and fast retrieval, thus keeping the hooks in the water longer. Castaway is equipped with a Furuno Radar System so we can monitor approaching boats and natural obstacles – Safety First.
Our top of the line Lowrance Fish Finder and GPS will help us pinpoint the most populated fishing spots. This state-of-the-art system allows us to find schools of Salmon and Halibut and stay on them while you continue to reel them in! Our new anchor system for Halibut allows us to sit, relax, and indulge in our goodies, while waiting for the giant Halibut that are about to come to us. Caught another 150lber in 2016, proving once again that the anchoring produces larger Halibut.

Are You Ready For An Angling Adventure of A Lifetime?